A Happy Trio Of Cards - No Line Copic Coloring & Copics On Vellum
Hi everyone! Today I wanted to share a happy trio of cards featuring the Happy Holidays Die and the Tiny Triangles Background die from Neat & Tangled. I've been sharing on the Neat And Tangled blog this month, so don't forget to head over there to check that out as well! When I saw the Happy Holidays sentiment die, I immediately knew that I could use this die year round to create sentiments for birthday cards, thinking of you cards and more. I thought I would create a few cards today that showcase this lovely sentiment.
For the first card, I combined the Happy Holidays die with the Tiny Triangles Background and the Sketchy Cupcakes stamp set. I wanted to create a colorful peek-a-boo effect on vellum to go behind the Tiny Triangles Background. I used some Copic markers in a rainbow of colors to quickly scribble colorful stripes on to the vellum. There is nothing perfect about it…it's quick and easy, but when paired with the Tiny Triangles Background, it's the perfect pop of color.

I also used Copic markers to color my cupcake frosting. I wanted to create a "no line" effect with the Copics, so I chose a pink Copic friendly ink to do the stamping of the frosting. This ink won't bleed as I color over it with the Copic markers, and will fade in to the background as I add my shading. This is just something a little fun and different rather than having a black outline every time you use your Copic markers. I'll show you exactly how I did this in the video tutorial below. Be sure you check it out!

I finished off the sentiment by performing a little stamp surgery. I cut the Happy Birthday sentiment from the Sketchy Cupcakes stamp set right down the middle. This allows me to get more use out of this stamp because I can use the words separately or together as they were originally intended. If you aren't comfortable cutting your stamps, you could do a little masking instead. I white heat embossed the sentiment on some vellum because I wanted to keep the card mostly white.

To finish off the card, I layered up all of my elements. To add dimension, I used foam adhesive between the background layers. I also added some polka dot vellum to the card base and a thin strip of gold glitter cardstock to repeat the gold glitter element of the sentiment. I love this mostly white design with a bright rainbow pop in the middle.

I added some shimmer to the card using some Wink Of Stella Clear Glitter and a layer of Glossy Accents over the gold glitter sentiment. I love topping off my glitter die cuts with a layer of Glossy Accents. It seals in the glitter. It also gives dimension to the die cut. And somehow, the Glossy Accents seems to magnify the sparkly-ness of the glitter.

For the second card, I repeated many of the same elements from the first card. This time, I decided to cut several of the happy sentiments and stitch them to my Tiny Triangles Background. I used some gold thread in my sewing machine to quickly stitch through these sentiments. I'm kind of obsessed with stitching my die cut sentiments to my cards at the moment.

Because these cards have a lot of white, I used a textured white cardstock to cut the Tiny Triangles Background and to create the card base. This keeps these cards from feeling too flat. The ever so subtle texture may not seem like much, but it's touches like these that can really make the card feel complete. (I used the linen cardstock on all of the white portions of all three cards.)

I also changed up the layering on this card. I used striped acetate on this card. I cut it in to a rectangle that is slightly larger than the Tiny Triangles Background and layered them in kind of a wonky fashion. The layers of vellum and card stock on top of the acetate allowed me to disguise some foam adhesive and add some lift to the acetate. This draws more attention and creates a shadow and it keeps the acetate from getting lost on the white background.

To attach my vellum sentiment, I decided to use my Tiny Attacher. I love the casual feel that the tiny staples add to the card. And since vellum can be tricky to attach, it's the perfect solution.

I finished the card off by adding a tiny bit of sparkle with some clear sequins.

Finally, I thought I would use the Happy Holidays die as it was designed….for a holiday card. This card came together so quickly and I love the way it turned out.

Once again, I used gold glitter card stock to cut my greeting. There is nothing more fun than a gold glitter greeting, especially for the holidays. And I decided once again to attach it using some machine stitching.

I used some patterned paper for both the sentiment backdrop as well as the Tiny Triangles Background. By mixing patterns from the same 6x6 paper pad, I knew that they would work well together. I'm a huge fan of candy cane stripes and wood-grain patterns for the holidays. This created the perfect mix of patterns for my card front.

With all the traditional elements layered up on this card, I decided I needed to throw in a little greenery too. The Boxwood Twine from Tim Holtz was the perfect touch. I clipped it on to the card front using some mini clothespins. To keep this in place, I squirted a little Multi Medium Matte inside the clothespins. That should help keep it from coming unclipped. I also clipped a gathering of some gold thread on to the card front as well. I thought this was kind of a fun accent…and a little something different than I normally do.

So there you have it…a happy little trio of cards. While many of the elements are repeated in the cards, they all have their own unique feel. I hope you also got a sense of the versatility of the Happy Holidays die…it's not just for Christmas folks! Be sure to check out the video tutorial below where I'll walk you through the creation of these projects. I've also linked the supplies used in these projects below.
Thanks for stopping by today! Don't forget to join me one week from today, over on the Neat and Tangled blog for a final project for the month of December! Until then, I hope you have a fabulous day!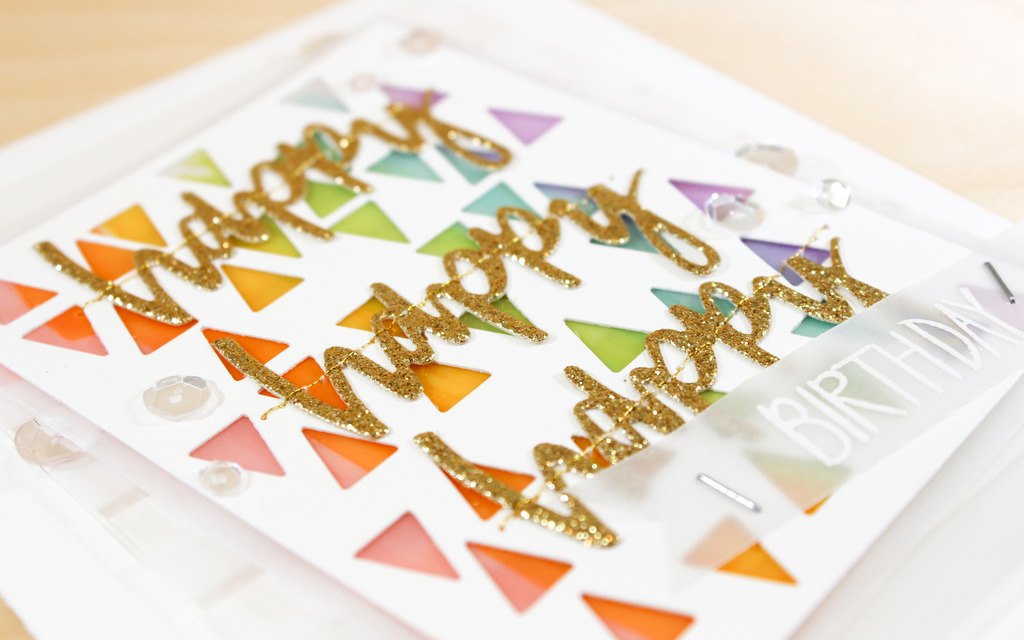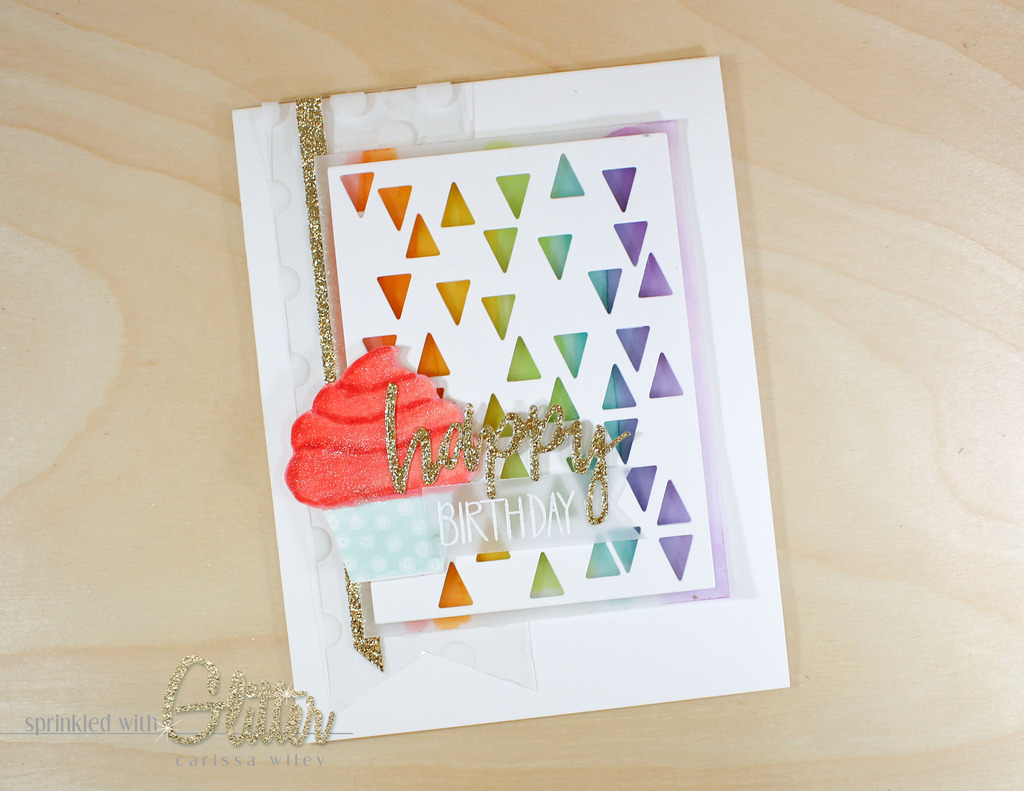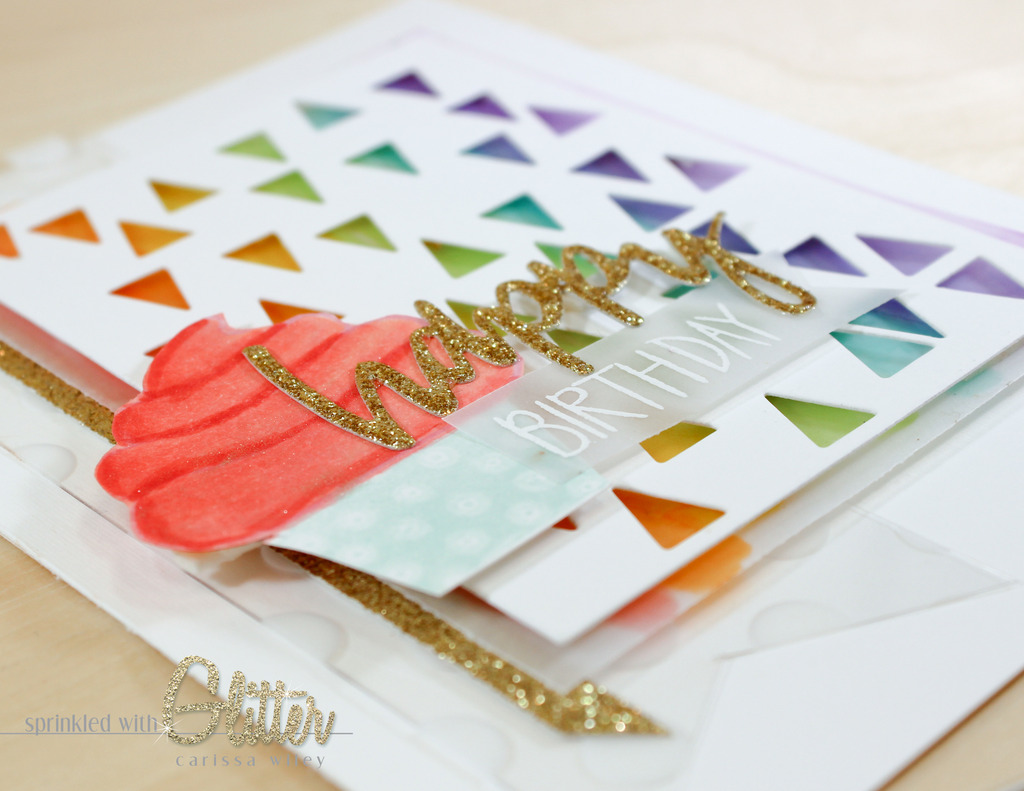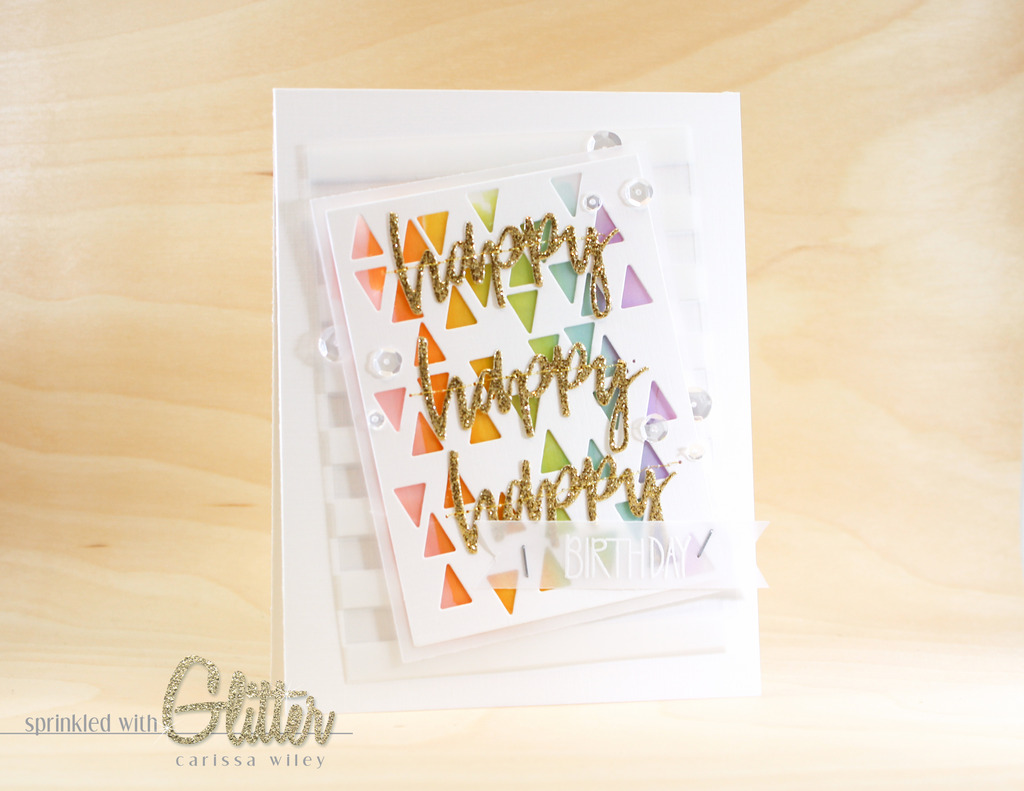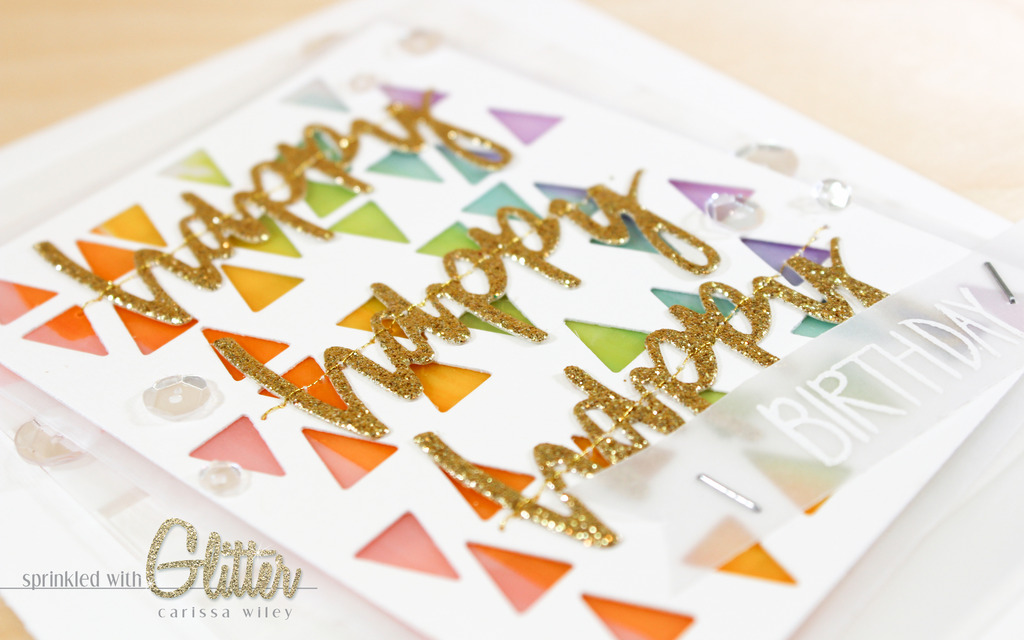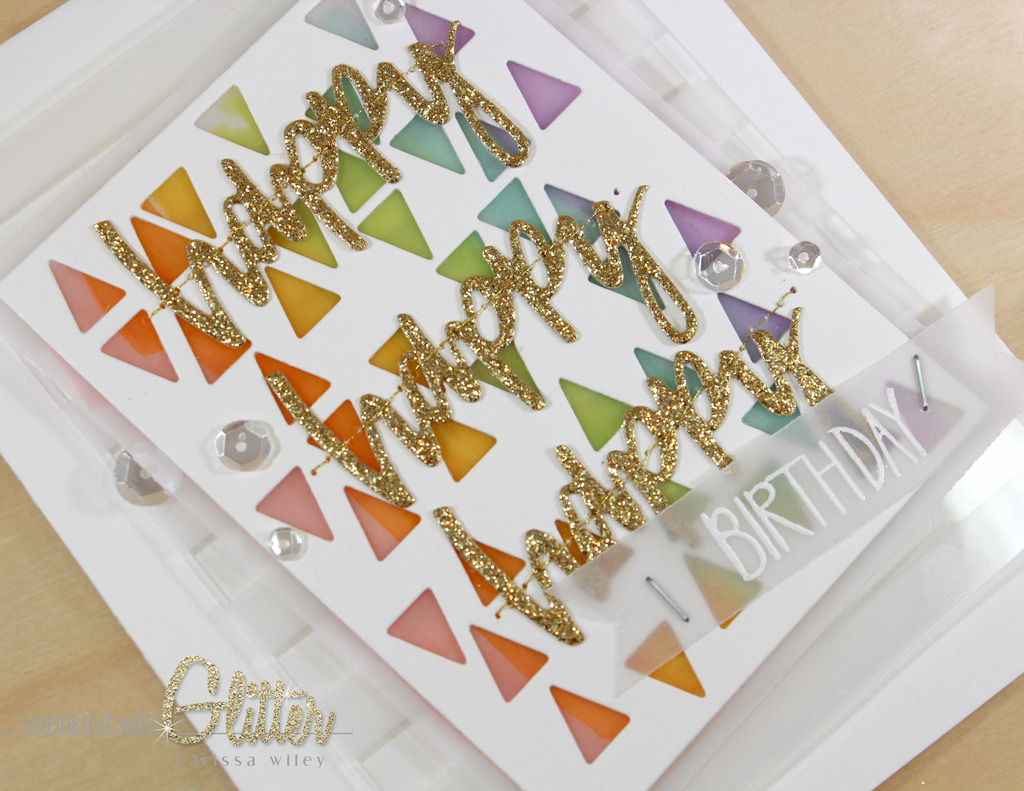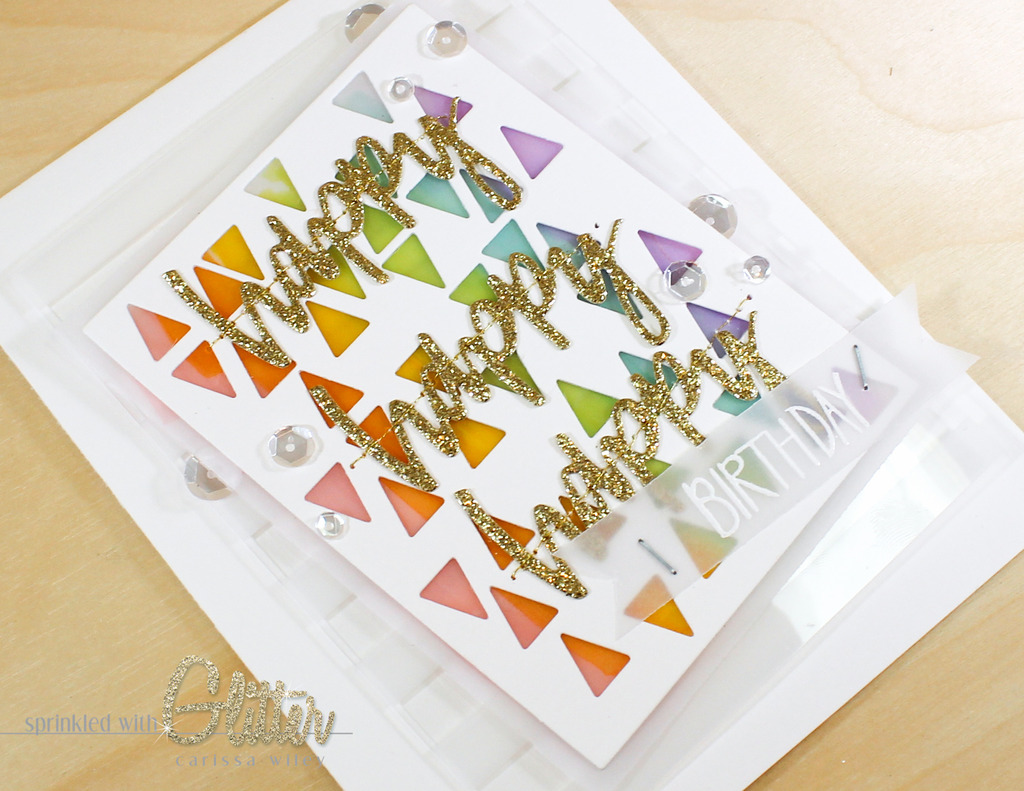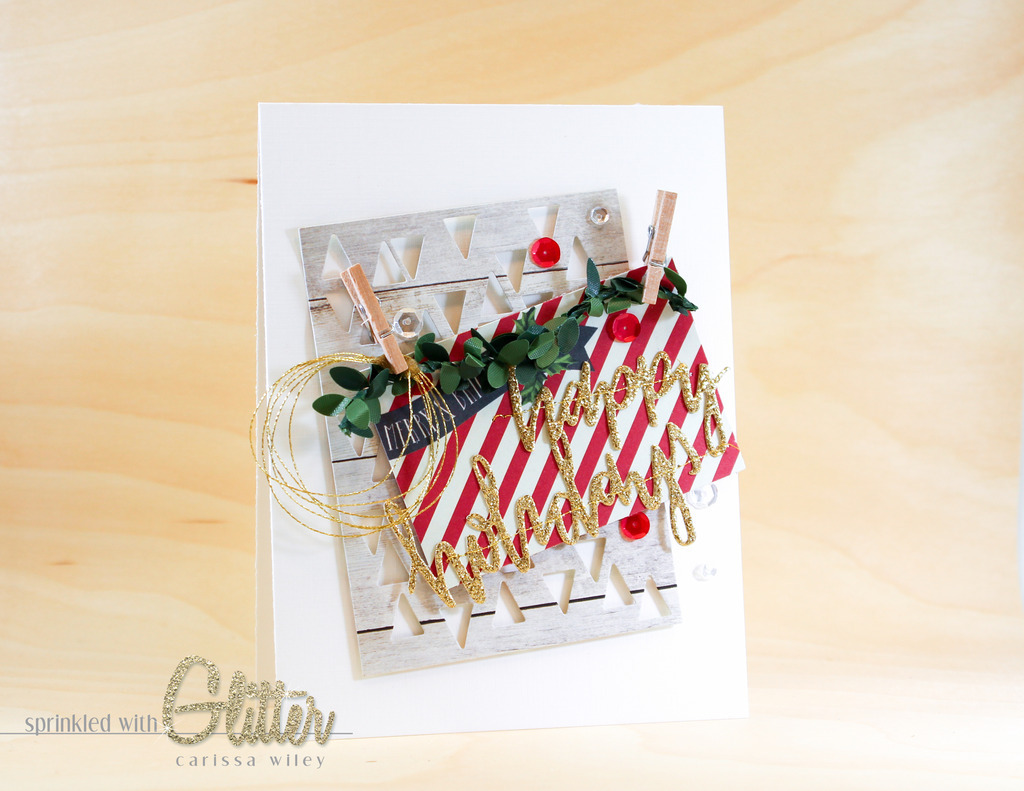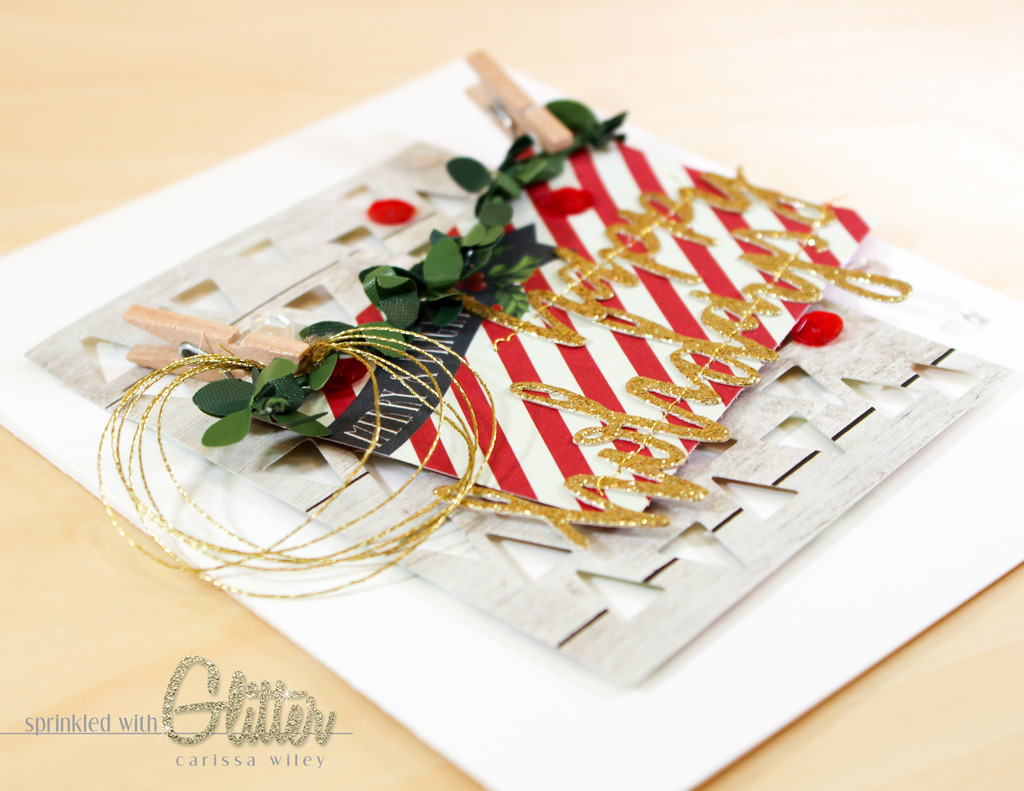 Supplies
*affiliate links used*