How To Stamp, Watercolor and Emboss With Catherine Pooler Ink Pads - A Look At The Catherine Pooler Inks and Products
Hi everyone! I'm so glad you've stopped by! ❤︎
Today I'm giving you a good look at the Catherine Pooler Ink Pads. I'm going to show you how to stamp, watercolor, ink blend and emboss using just one ink! That's right. You can do all of those things with the Catherine Pooler Ink Pads.
In addition to being very versatile, the Catherine Pooler inks come in some beautiful colors. I've linked all of them below so you can see the beautiful rainbow!
Be sure to check out the video tutorial. I'll walk you through all of the things you can do with Catherine Pooler Ink Pads and then create a card featuring some Catherine Pooler stamps and dies. If you want to watch this video tutorial in HD on my YouTube channel, click HERE.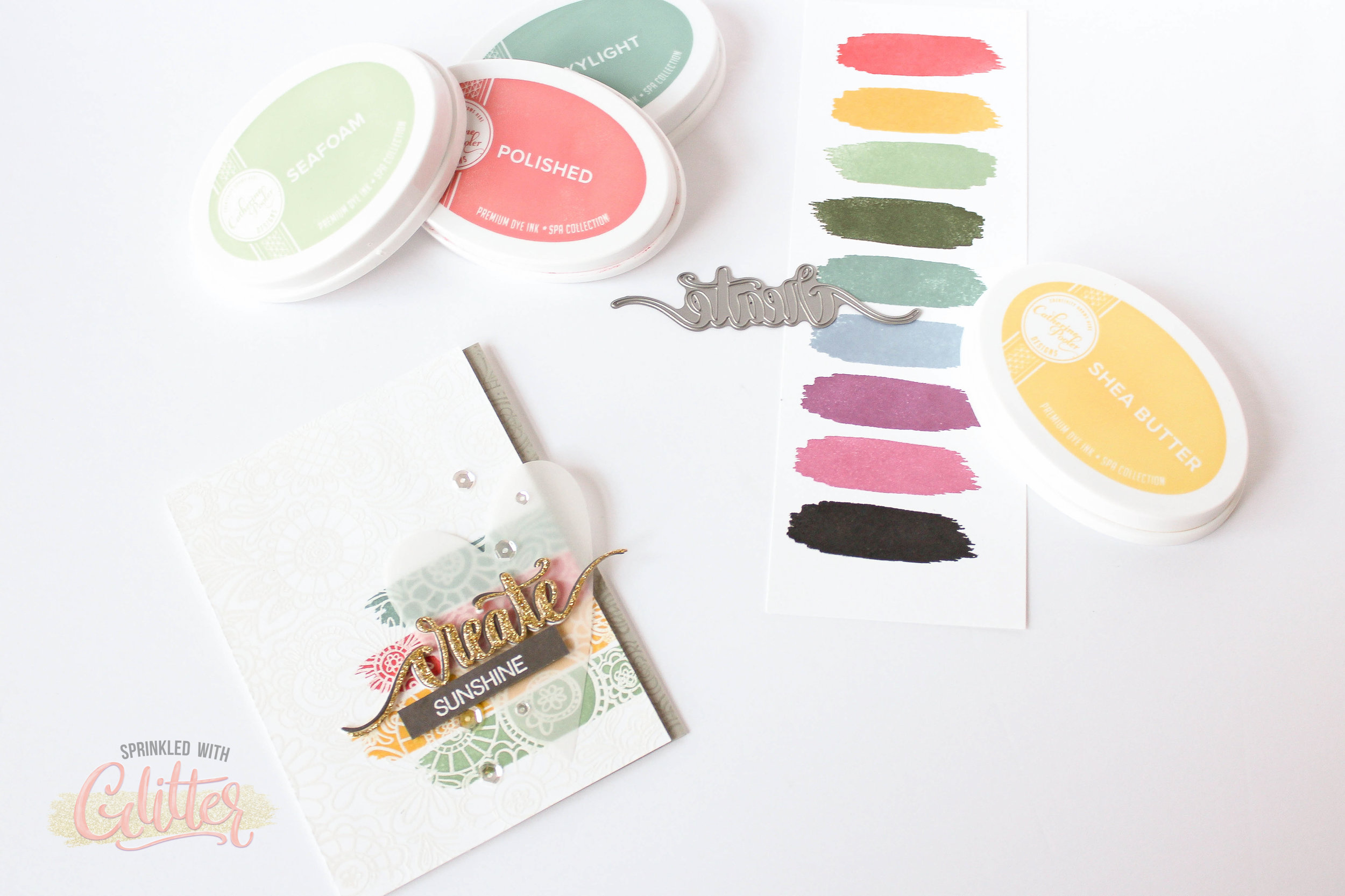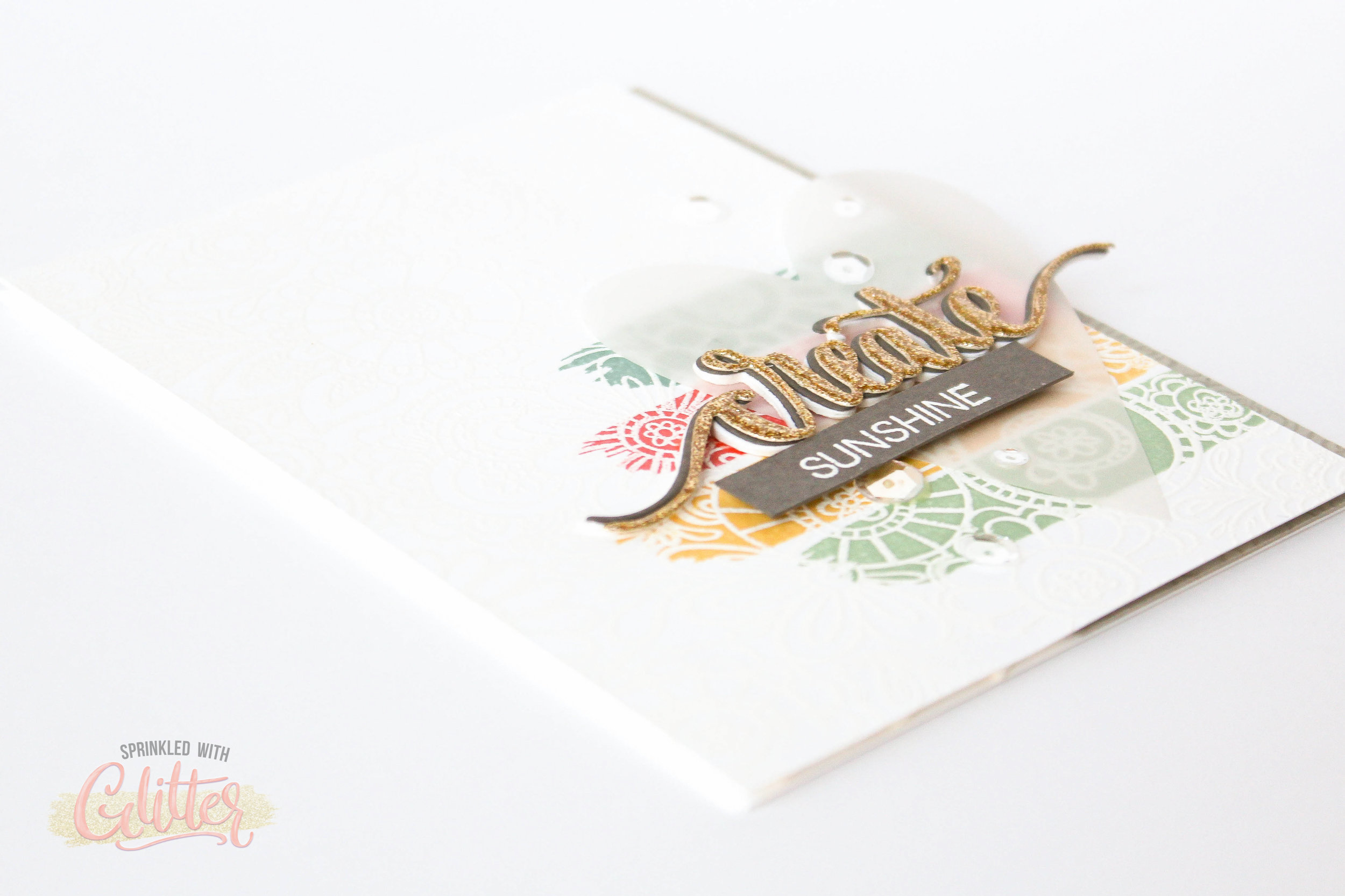 BLOG HOP DETAILS
This post is a part of a blog hop celebrating the arrival of Catherine Pooler products at EllenHutson.com. There are lots of fabulous projects along this hop, so be sure you check them all out. If you ever get lost along, the way, be sure to start from the beginning at the Ellen Hutson CLASSroom blog. Thanks for joining me here! Your next stop on this fab hop is the ever-so-talented Carly Minner. I ❤︎ me some Carly Tee!
Thanks for stopping by! I hope you've enjoyed this look at the Catherine Pooler inks and I hope you've enjoyed this project! Until next time, I hope you have a fabulous day!
XOXO
SUPPLIES
*affiliate links used*
CATHERINE POOLER DIES, CREATE

CATHERINE POOLER CLEAR STAMPS, EAT,...

CATHERINE POOLER CLING STAMPS, DOODLE...

UNITED WE FLOURISH STAMP & DIE COMBO,...

ESSENTIALS BY ELLEN DESIGNER DIES,...

CATHERINE POOLER INK PAD, POLISHED

CATHERINE POOLER INK PAD, SEAFOAM

CATHERINE POOLER INK PAD, SHEA BUTTER

CATHERINE POOLER INK PAD, SKYLIGHT

CATHERINE POOLER INK PAD, SPRUCE

CATHERINE POOLER INK PAD, STONE BLUE

CATHERINE POOLER INK PAD, SUGARED...

CATHERINE POOLER INK PAD, ROSE PETALS

CATHERINE POOLER INK PAD, ROYAL...

CATHERINE POOLER INK PAD, JUNIPER MIST

CATHERINE POOLER INK PAD, EUCALYPTUS

CATHERINE POOLER INK PAD, SAUNA

CATHERINE POOLER INK PAD, PEPPERMINT...

CATHERINE POOLER INK PAD, SWEET SIXTEEN

CATHERINE POOLER INK PAD, PIXIE DUST

CATHERINE POOLER INK PAD, MINT TO BE

CATHERINE POOLER INK PAD, GARDEN PARTY

CATHERINE POOLER INK PAD, IT'S A BOY

CATHERINE POOLER INK PAD, MELON ICE

CATHERINE POOLER INK PAD, BELLINI

CATHERINE POOLER INK PAD, IT'S A GIRL

CATHERINE POOLER INK PAD, ORANGE TWIST

CATHERINE POOLER INK PAD, ROCKIN RED

CATHERINE POOLER INK PAD, FIESTA BLUE

CATHERINE POOLER INK PAD, GRASS SKIRT

CATHERINE POOLER INK PAD, DAYDREAM

CATHERINE POOLER INK PAD, GREEN TEA

CATHERINE POOLER INK PAD, MANDARIN SPICE

CATHERINE POOLER INK PAD, FLIRTY FUCHSIA

CATHERINE POOLER INK PAD, SOMETHING...

CATHERINE POOLER INK PAD, AQUATINI

CATHERINE POOLER INK PAD, LIME RICKEY

CATHERINE POOLER INK PAD, TIARA

CATHERINE POOLER INK PAD, TIKI TORCH

CATHERINE POOLER INK PAD, TUTTI FRUTTI

CATHERINE POOLER INK PAD, PARTY DRESS

CATHERINE POOLER INK PAD, ICING ON...

CATHERINE POOLER INK PAD, BLACK JACK

CATHERINE POOLER INK PAD, MIDNIGHT

Hero Arts Embossing Powder, White

American Crafts Cardstock, Gold...

Essentials by Ellen 40 lb. Vellum, 25 pk

Essentials by Ellen, White Linen #100...

Pretty Pink Posh Sequins, Sparkling...

Neenah Cardstock, Neenah Classic...

Neenah Cardstock, Neenah Heavyweight,...

Neenah Cardstock, Neenah Classic...

Essentials by Ellen, White Linen #100...

VersaMark Ink Pad

Inkadinkado Embossing Magic Bag

Hero Arts Embossing Gun (Wagner)

Crafter's Companion Gemini Junior

Crafter's Companion Gemini Junior...

Crafter's Companion Gemini Junior...

Crafter's Companion Gemini Junior...

Crafter's Companion Gemini Junior...

Crafter's Companion Gemini Junior...

Crafter's Companion Gemini Junior...

Sizzix Cutting Pad, Standard Individual

Sizzix Cutting Pad, Standard - Clear...

Sizzix Precision Base Plate for...

Sizzix Accessory, Magnetic Platform...

Sizzix Big Shot White & Gray

Fiskars Deluxe 12 Inch Paper Trimmer...

Fiskars Reinforced Trimmer Blades

Tonic Comfort 8.5 Inch Guillotine...

EK Craft Tweezers

EK Tools, Precision 5 Inch Scissors...

Tim Holtz Tonic Mini Snips

Tim Holtz Tonic Non-Stick Micro...

Teflon Bone Folder

My Sweet Petunia MISTI Laser Etched...

My Sweet Petunia Mini MISTI Laser...

My Sweet Petunia Bar Magnet

Lawn Fawn Clear Acrylic Block, 3.5...

Lawn Fawn Clear Acrylic Block, 2.5...

Lawn Fawn Clear Acrylic Block, 1.75...

Inkadinkado Clear Acrylic Blocks, Large

ATG Kit, Advanced Tape Glider

X-Press It Tape Runner

ATG Double-Sided Refill Tape, 2 pk, 1/4"

Ranger Multi Medium, Matte Mini, 1/2 oz.

Ranger Accents, Mini Glossy Accents

Ranger Tim Holtz Distress Collage...

Darice Ultrafine Tip Applicator...

Scotch Double-Sided Foam Mounting Tape