Fiskars Aluminum Cut Rail Trimmer Review And Comparison
Hi everyone! A few weeks ago I went to CHA (Craft And Hobby Association Trade Show) and fell in love with a new trimmer I saw from Fiskars. I showed it on my Instagram and got lots of positive remarks. I've been a long time fan of Fiskars trimmers and when I saw that they had added a few simple yet fabulous improvements to their paper trimmer, I knew I had to get my hands on it. I contacted Fiskars and they so generously sent me one of these new trimmers to review and show to you!

The biggest difference between the new Aluminum Cut Rail Trimmer and the Wire Guide Trimmer is the aluminum rail. This rail is solid and sturdy, which means there's no wiggle in the blade. The rail ensures that the blade glides in a straight line. The Wire Guide trimmer, due to its plastic guide rail, had a little give in it, or what I call wiggle room. If you aren't using it properly, it's easy for your blade to wiggle back and forth and cause a not so straight cut line on your paper. The aluminum rail takes out the wiggle room and makes for straight cuts every time.

I also noticed a big improvement in the security of the blade. I'll demonstrate this in the video below. The new aluminum rail holds the blades securely in place until you WANT to take them off. I have been having incidents with my wire trimmer where the blade will kind of jump out of the guides and fall off. In fact, I had it fall off inside a bag at one time and I found it with my finger. The new design holds the blade securely in place. The blade wraps around the rail. The rail is notched, so that when you want to remove it, you line it up within the marked area and snap it off. I love knowing that once my blade is in place, it will stay in place.

The platforms of both the Aluminum Rail Trimmer and the Wire Guide Trimmer are very similar. The only difference I really found is that the numbers on the new Aluminum Rail Trimmer are a little larger, making measurements easier to spot. The platforms are still marked every 1/4 of an inch, which is perfect for card makers like myself. And standard sizes are also clearly marked on the base platform.

Another difference that I would like to point out is the cut view. You can clearly see where you are cutting with the Aluminum Rail Trimmer. However, your view to the right of the cut line has been taken away by the aluminum rail. Since the guard on the wire guide trimmer is clear plastic, you can see both right and left of your cut line. This isn't a problem for me, but it is a difference that you may want to consider. I'll show you exactly how that works in the video below.

I love that the new blade design has a clearly marked cut point. It has an arrow, with a slight protrusion (I like to compare it to the pointer on the Wheel Of Fortune Wheel) that points clearly to the measurement. This makes trimming frames easier. I feel like I was guestamating with the Wire Guide Trimmer. It was marked, but because the blade sets a little further away from the measurements, it was harder to see exactly where my cut was beginning.

According to the Fiskars representative I have been in contact with, this trimmer is designed to cut up to 2 sheets of 110 pound card stock at one time. I do find I get best cuts when trimming one piece at a time. But I find this to be true with most everyday trimmers.

Upon further investigation, I found that there aren't titanium blades available for this trimmer. Major bummer. I'm really hoping that they'll release these in the future. I know we all prefer the longevity and clean cuts of titanium blades.

I'll walk you through this trimmer in detail below and show you my thoughts of it. The Aluminum Rail Trimmer is currently available in Hobby Lobby stores or from Fiskars.com. They are expected to hit Michaels stores in March of this year and they are slated to hit JoAnn in June 2016. As they become available, I'll add additional links below so that you can find it at your favorite retailer.

Thanks for stopping by today. I hope you've enjoyed this look at the new Aluminum Rail Trimmer from Fiskars. I've been really pleased with it! I'd love to hear your thoughts. Be sure to share them with me below! Until next time, I hope you have a fabulous day!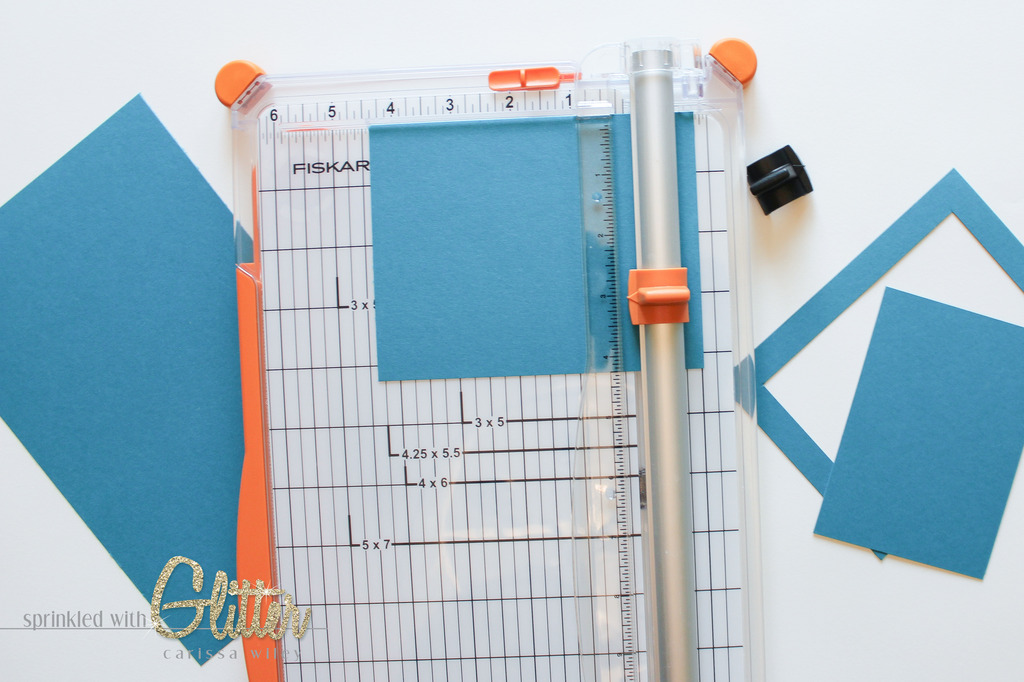 Supplies
*affiliate links used*