Pinkalicious Blog Hop Plus A Giveaway!
Hello everyone! Are you having a fabulous time seeing all of the wonderful projects that the Pink Designers have for you on their blogs? If you came from Andrea's site, you're doing a great job hopping along! If you have just happened upon this blog hop, you can start at the beginning by visiting My Pink Stamper's site.

If we haven't become acquainted before, I'm Carissa. I'm one of the new gals on the team of Pink Designers for My Pink Stamper! I am honored to be a part of this team. I'm a mommy to three and am married to an amazing man! I am a Registered Nurse and work in the area of Maternal Child Health....I work a lot with new mommies and their babies! I love to craft in my spare time! I'm so glad you're visiting Sprinkled With Glitter. And I have a special giveaway tonight in honor of my first blog hop as a Pink Designer!
My project showcases the new Yummy-licious stamp set from My Pink Stamper. I love, love, love this set! It's been so much fun to play with it. There are tons of great sentiments to top all of your homemade goodies...but if you're like me....and you're not much of a baker, I am sure you will find lots of uses for it too! There are so many possibilities.
Our assignment this month was to create a project that showcases our style. Hmmmm...not sure what my style really is. It changes with my moods. But, I think this gift certificate holder shows my style well. I love patterned papers, twine, texture and fun shaped cards! Oh and don't forget a sprinkle of glitter!
There is a video above that shows you exactly how I made this card, but here's the quick details on the gift certificate holder.
*My Pink Stamper Yummy-licious stamp set (check out all of her great stamp sets!)
*Elegant Edges Cartridge, book feature, shape cut with my Gypsy measured 8.25 x 8.0 inches
*Sweet Shop Cartridge, ice cream sundae cut at 3.25 inches
*Patterned paper from My Mind's Eye and Echo Park
I have a giveaway for this special event as well! Just leave a comment on this post and a way for me to reach you if you win and you'll be entered to win a Cricut Pink Tool Kit! I'll choose the winner using random.org on Wednesday, August 17, 2011.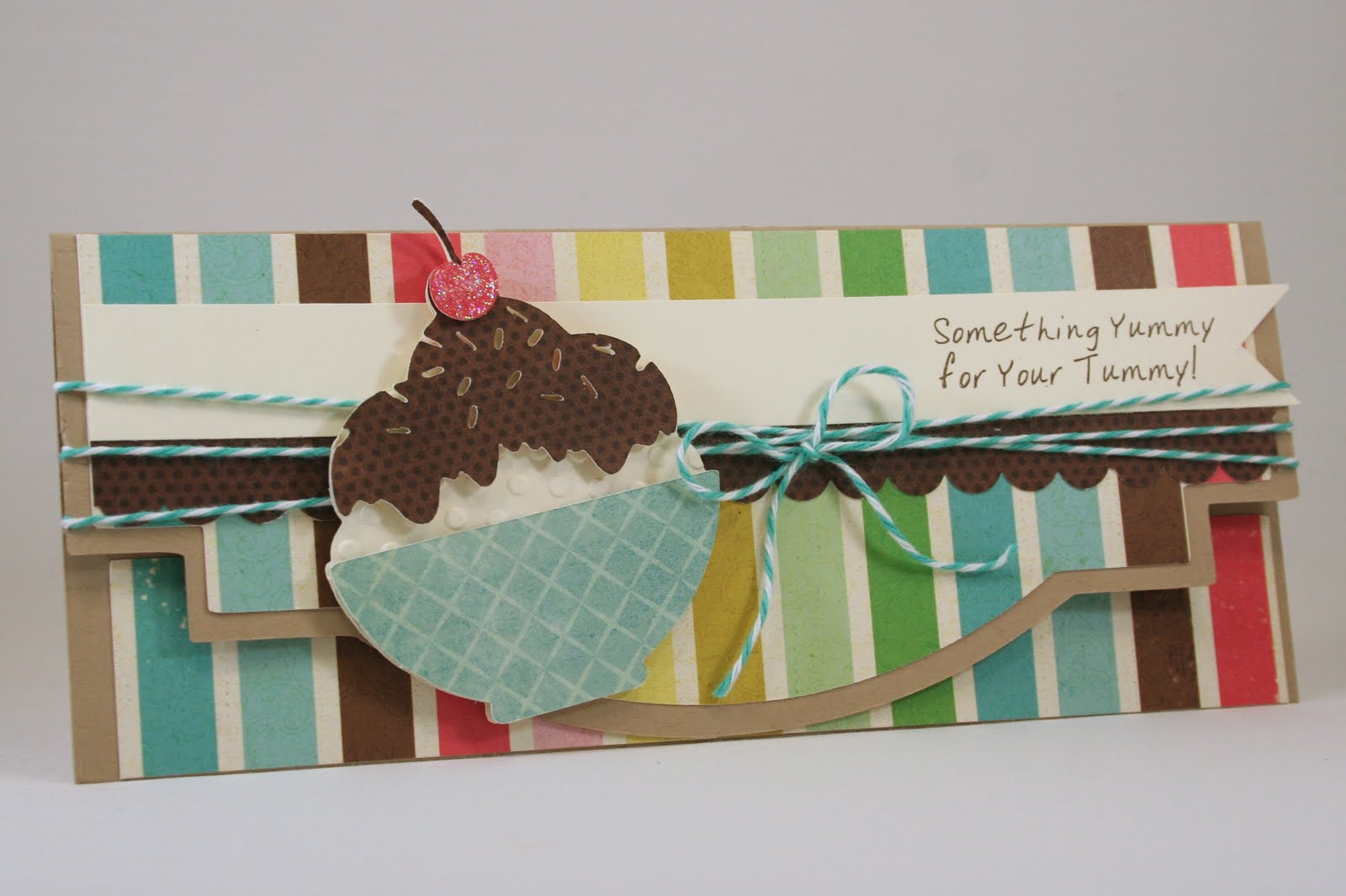 Now keep hopping along and move on to Agnes' (Flowerdisco)blog for more fun projects and inspiration! And don't forget to visit My Pink Stamper's site! I have the complete blog order listed below for your convenience!