Sparkle Pens Comparison And Review - Spectrum Noir Sparkle Pens & Zig Wink Of Stella Glitter Brush Markers

Hi everyone! I hope you're having a great week! I'm back with a little product review and comparison for you. I wanted to give you a good look at the Spectrum Noir Sparkle Pens and the Zig Wink of Stella Glitter Brush Markers. Both are full of sparkly, glittery goodness. But there are a few differences that I really wanted to share with you.

As you all know, I've used the Zig Wink of Stella Glitter Brush Markers for quite some time. And I've loved them! When I saw the Spectrum Noir Sparkle Pens, I was really intrigued, especially after I heard that you can watercolor with them. I had never tried to watercolor with my Wink of Stellas before now. So I thought we would just experiment together.

The Spectrum Noir and Zig pens function in the same way. They are a brush tipped marker that you prep by removing the protective ring and squeezing to start the flow. I recommend having a piece of scrap paper on hand when priming these pens for the first time. There are times when you'll get a big blob of ink flowing from the tip. You'll only need to prime these like this the first time. You should be good to go with each subsequent use. Be sure to shake both pens prior to using to mix the glitter around inside of them.

While both of these have a nylon brush tip, I found a few differences in the brushes. The brush on the Wink Of Stella comes to a much finer point than the brush on the Spectrum Sparkles. I also found the brush on the Winks to be much more flexible and easier to write with. This might be important to you if you like to do hand lettering. I found that the Spectrums loosened with time, but were still a bit stiffer than the Winks. As I was writing with the Spectrums, I found that the bristles of the brush wanted to kind of separate and gave a much less smooth appearance when writing. Overall, I think I prefer the brush on the Zigs.

Another difference I've found between these two pens is their water solubility. The Spectrums blend easily with water, creating a beautiful sparkly watercolor appearance. They react with water even after they have dried on the paper. The Zigs on the other hand do not blend with water once they are dried on the paper. You can achieve some watercolor looks with the Zigs by picking the ink up from a slick surface using a water brush. But overall, I would consider the Zigs a permanent ink. The Spectrums are reactive with water.

Because the Spectrums are reactive with water, they also blend seamlessly with each other. You can easily blend from one color to another. I didn't find that to be the case with the Zigs. Be sure to check out this blog post where I used these to create a watercolor look on a card.

The permanent nature of the Zigs isn't necessarily a bad thing. If you don't want your colors to bleed or blend and your project happened to come in contact with water, the Zigs would remain permanent. The Spectrums on the other hand could cause you a problem in this department if you aren't intending to have the colors bleed, blend or move. You may use one of these pens for one type of project and one for another.

Now let's talk about the glitter in these markers. The color in both of the pens is in the ink, not in the glitter. Each of the pens contains a colored ink with glitter and sparkle in the barrel of the pen. The glitter in the Zig marker has a very warm color to it. It almost has a gold cast. The glitter in the Spectrums is a more true clear glitter. It's very white and doesn't really have a cast to it. I'll show this to you the best that I can in the video below.

The Zig Wink of Stella markers are available in 16 different colors, one of those being the clear glitter brush marker. The Spectrums are available in 19 different colors, one of those being the clear overlay marker. The Spectrums are sold in packs of three. The Zigs can be purchased individually or in packs of three. I have a color swatch here for you to look at. I am missing two of the Zigs on this color chart, the Dark Green and Brown. I do however really like that the Zigs are available in Black. They are also available in Silver and Gold, but if I'm being quite honest, I do not care for either of these. They are not a true metallic ink, so they look...well, not pretty. (Please note, this is a scan of my color swatch sheet. The colors may appear slightly different in person.)

As far as price goes, they are pretty similar. The Zigs run about $19-$20 for a three pack, or about $7 each. The Spectrums are around $17 for three. The Spectrums are slightly cheaper, but cannot be purchased individually.

I've included a video review of both of these pens below. I hope you'll check it out. I think you might find some different ideas for using your sparkle pens, whatever brand they may be. I've also included links to the various pens available below.

Thanks for stopping by today. I really hope you've enjoyed this look at the different Sparkle and Glitter pens available. I'd love to hear your thoughts. Be sure to leave them in the comments below. Until next time, I hope you have a fabulous day!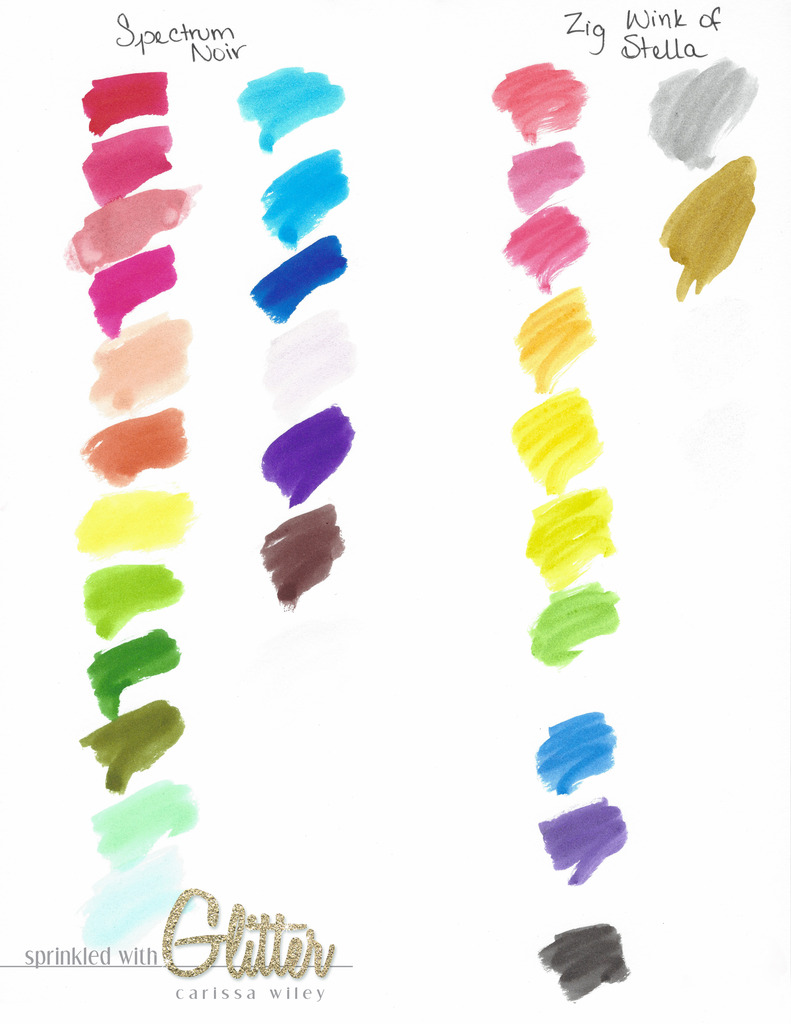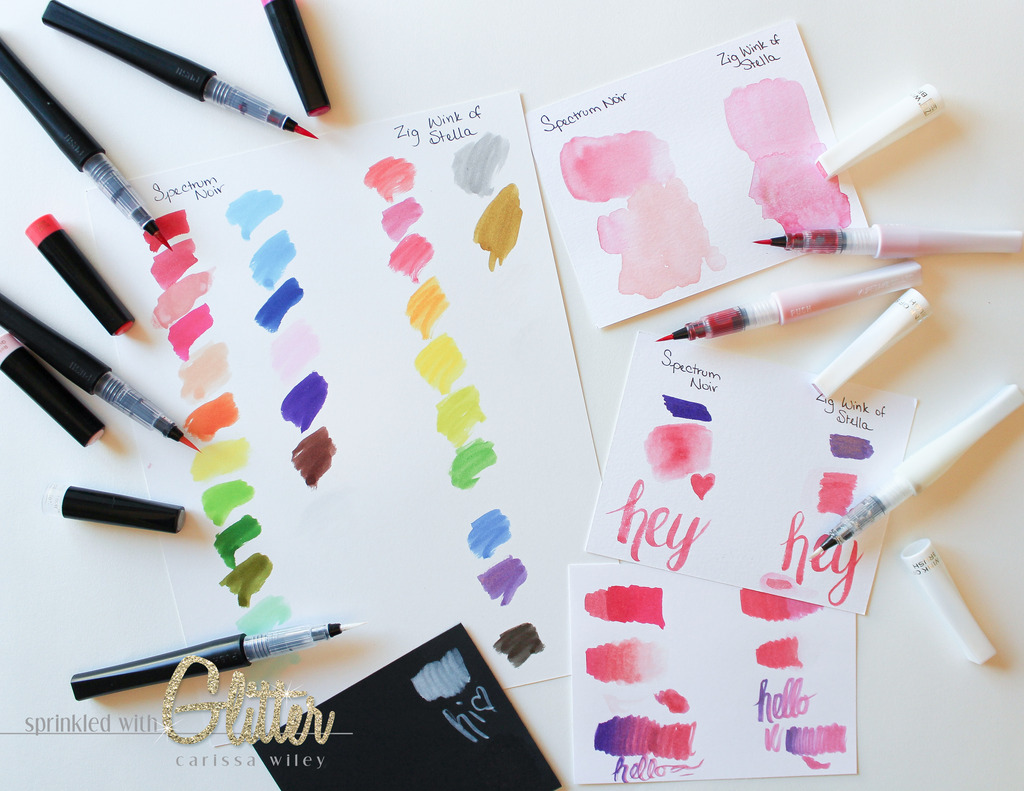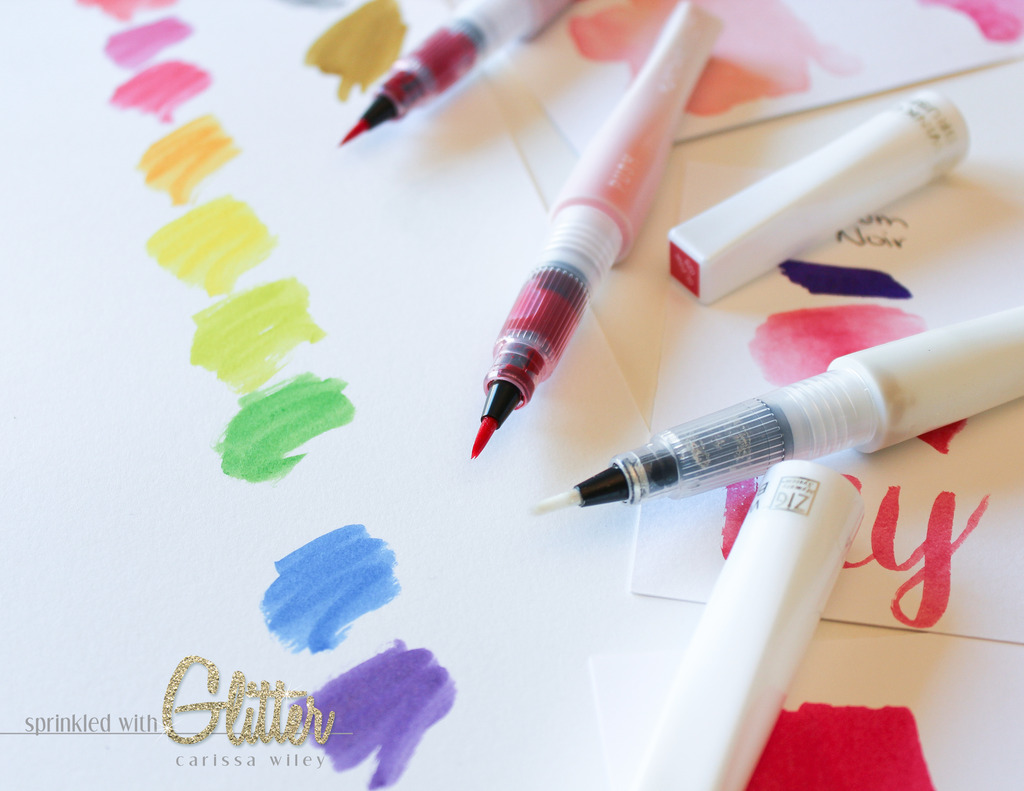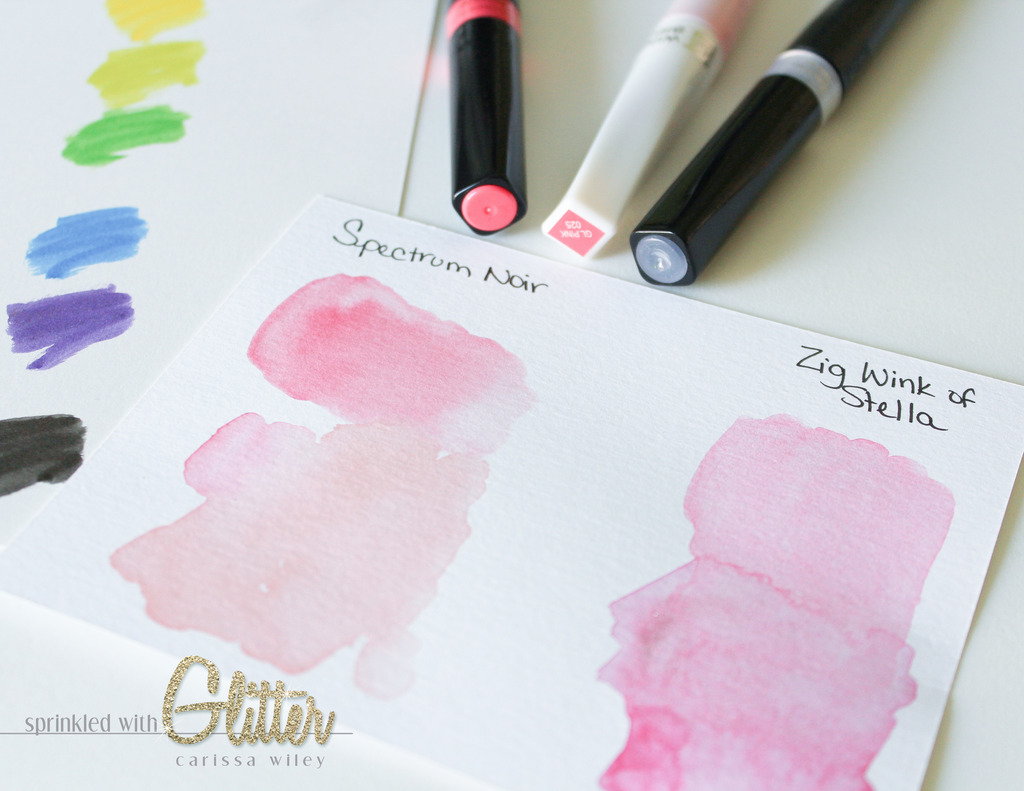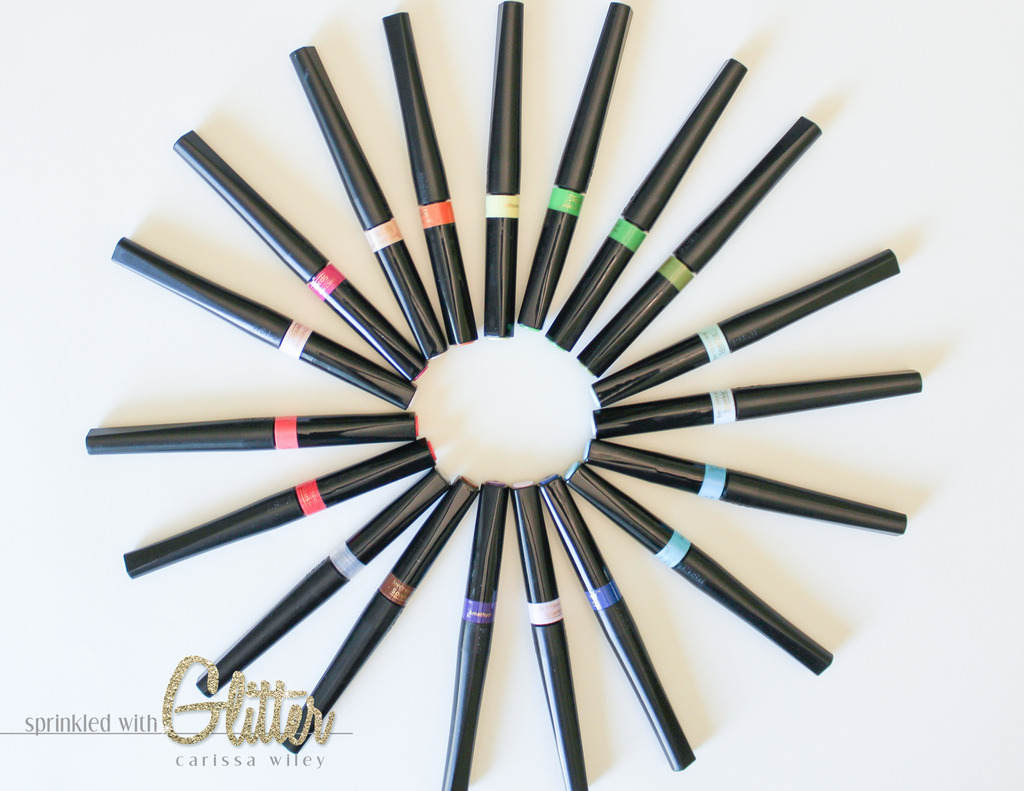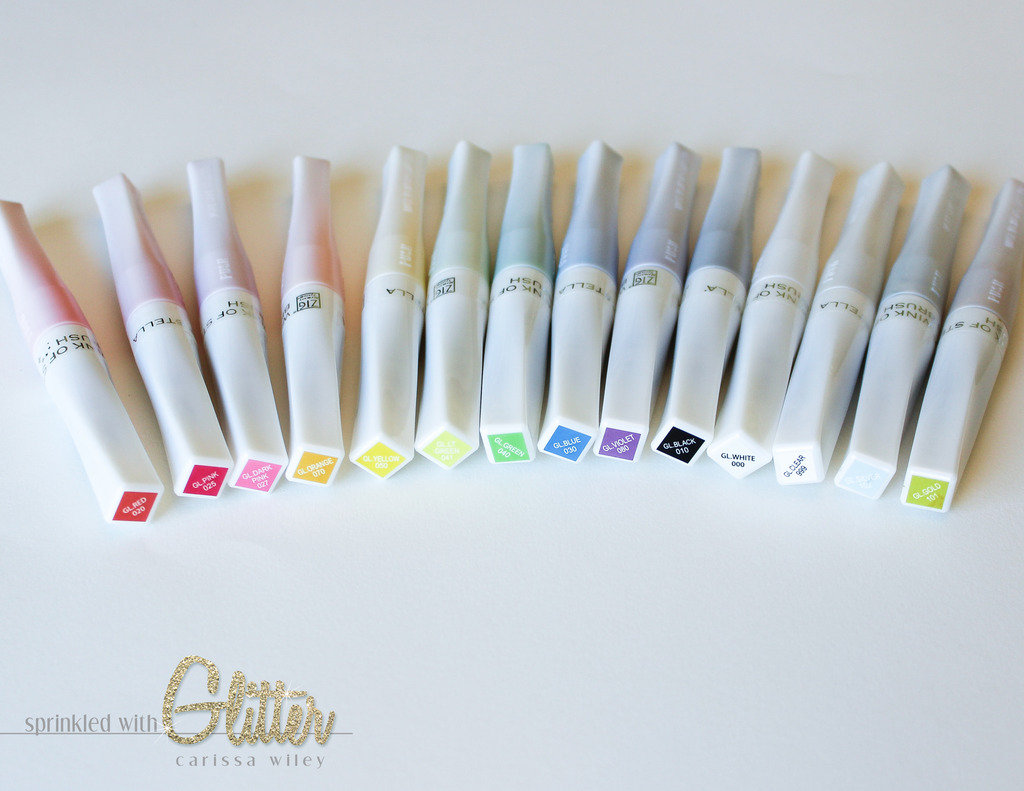 Supplies
*affiliate links used*