Watercolor Two Ways Featuring My Favorite Things
Hey everyone! I'm so excited to be guest posting over at the MyFavorite Things Blog. I've been a fan of My Favorite Things for quite some time. I often use their products over on my blog. Today I'm sharing two different card projects with you, which both feature the new Stars and Wishes die set as well as two different watercolor techniques.
I wanted these big bold sentiments to take center stage on my card projects, so I kept the backgrounds soft. I used two different watercolor techniques for the backgrounds.
The first card features a basic watercolor background. I used pink, orange and yellow to create a beautiful blend. It kind of reminds me of a sunset. After my background was completely dry, I used the Simply Circles Background Stamp to add some more interest and pattern. I love the way this background turned out. It's fun to layer embossing over watercolor to add texture and interest.
I cut the Wish sentiment from the Stars and Wishes die set out of some gold glitter card stock. I also used the Count The Stars die set to create a mat for this beautiful sentiment. The mat is cut from vellum and creates a halo effect around the sentiment. I love how it adds softness to the bold glitter sentiment. You could also add more to your sentiment with the Count The Stars stamp set. There are sentiments like "make a" and "big" that would fit perfectly above or below the die cut sentiment.
I used die cuts from the Blueprints 25 die set and the Stitched Circle Stax to finish off all of the layering on this first card. I love all of the versatile shapes that come in the Blueprints die sets. These shapes are perfect for adding the finishing touches.
For the second card, I created a watercolor background on a vellum piece using Copic makers. I used BG11 and BG15. I used two aqua colors and a little bit of rubbing alcohol to blend them out and create the soft look of watercolor on the vellum piece. I layered this over a white card base that was stamped with the Myriad Dot background stamp. I love how the dots peek through the vellum and add just a touch of pattern and texture to the card.
I used the Abstract Cover Up Die to add a fun and funky gold glitter grid over the vellum piece. This Cover Up die is so much fun! I think it will be the perfect die for creating a funky shaker card.
For this second card, I wanted to incorporate the black that I used on the Myriad Dot background stamp, so I cut my wish sentiment from black cardstock. To keep it center stage, I added a generous layer of glossy accents to really make it pop!
I have created a video tutorial below, walking you through the entire creation of both of these fun cards. I've also link the products used in this project below.
I hope you've enjoyed these projects and have been inspired to create your own watercolor cards. Thanks for stopping by today! Have a fabulous day!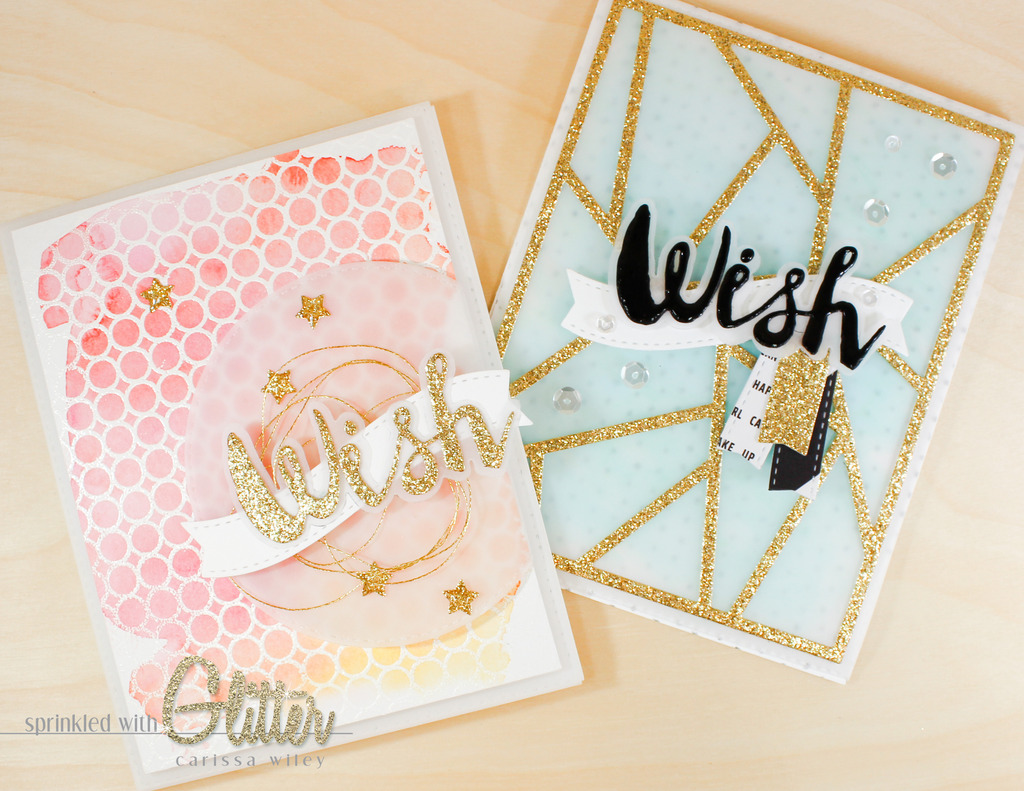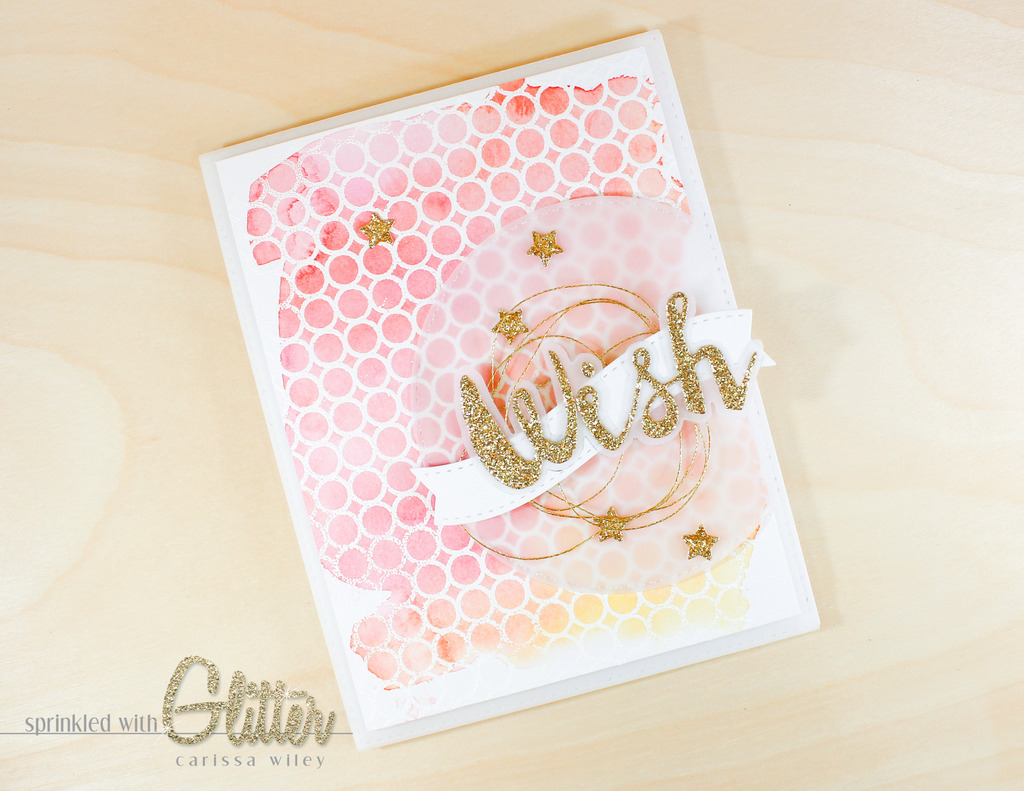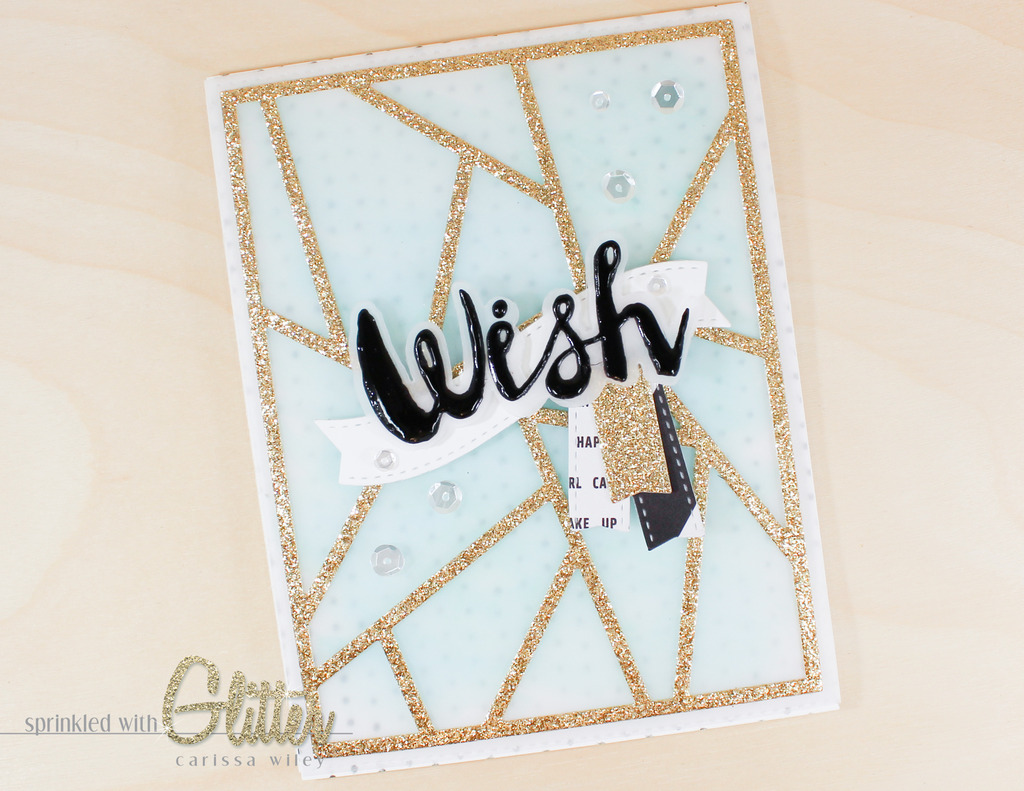 Supplies
*affiliate links used*